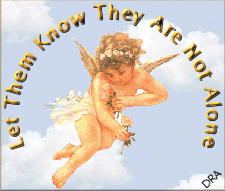 "Operation Not Alone" is in it's fith year! Elegant Treats has put together a campaign to help battered women & children have a better holiday season.

Last year we were able to hand out over 500 baskets & bags to shelters & crisis centers, 236 of these were sponsored here through the site. The gift baskets and gift bags will go out the first 2 weeks of December. We may not reach our goal of the entire U.S. again this year, but that is our goal. However, what ever we have will go out to as many places as possible. Your suppport is much needed and greatly appreciated.


Since the people in these shelters and situations are in need of a lot of essentials the baskets will contain things that most of us take for granted on a daily basis. The childrens baskets will contain the same, as well as some things extra special for them to have a happy holiday season. Such as games, toys etc.


We understand that in todays society even those of us with a roof over our head and food on the table still have difficulties making ends meet. We could also use small items to fit into baskets, such as; lotions, soap, shampoo, games etc. Anything would be greatly appreciated.

All sponsors will be listed & linked here on the site as well as on the Operation Not Alone site. They will also remain on that site till next years campaign.
Check back at the end of Dec to see how many we were able to send out this year!


Please visit the "Operation Not Alone" site. If you have any questions send us an email. We know this project will take a lot of hard work, time, and money but we feel that the rewards of knowing these women and children know someone cares is an amazing feeling.



Thank you for your support.





Sponsor An Adults Basket/Bag $6.00
Sponsor A Childs Basket/Bag $4.00