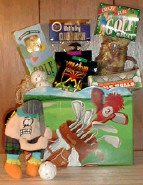 For Him # 101 $26.99 (was $35.5)
Send a basket to your favorite sports fanatic. Filled with items from their favorite sport. This basket can be for golf, football, baseball, tennis, & hockey. We can even make one for the WWF fan or the Nascar fan.

For Him Deluxe Garden Basket # 102 $60.00
The deluxe garden basket for him is sure to keep him happy in the garden for hours. Comes with a set of gardening tools, seeds, hand lotion and more.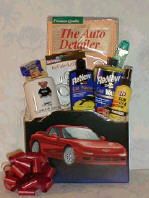 For Him # 103 $40.00
This great item comes with all the essentials to keep their favorite "toy" clean and shinny. A great gift at a great price.